2014 Review Extravaganza Week 3
Linking up again with Emmy for Week 3 of the 2014 Review.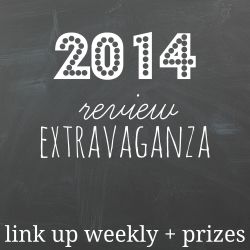 July
We celebrated the 4th of July just as a little family of four. We went swimming at one of the aquatic centers nearby, grilled some hot dogs, and enjoyed some fireworks out in our front yard. We put the baby to sleep at that time and I was amazed that he slept through all of the loud fireworks all of my neighbors were setting off.
Swimming fun.
I didn't realize Jack wore a Canada shirt all day ... on the 4th of July. Whoops!
Jack had a great time, and we could actually see the city fireworks off in the distance from the end of the block, so Jack and I stood on the sidewalk and watched some of them, and ran up and down the block. It was a happy day in an otherwise personally difficult time and month.
We honestly didn't go anywhere or do a whole lot during the summer, besides our reunion in June, because of everything that was going on. Even though I was really struggling with postpartum depression, I tried very hard to give Jack a normal summer. We had a lot of days playing outside in the backyard cheap swimming pool,
doing sidewalk chalk,
playing in the sandbox and with bubbles, mowing the lawn, going to the park and going on walks. I pray that that is what my 3 year old remembers about this past summer and that it was still good for him.
Here are some of my favorite pictures from July.
Jack was excited I gave him "dinosaur hair".
My sweet, happy baby.
I love baby feet. :)
Did a whole lot of this during the summer ... holding my sleeping baby.
With my boys.
August
My little Jacky turned 3 in August and we had a little party for him with a few friends, a dump truck cake, and a few presents. It was perfect and I enjoyed trying to make it a special day for him.
He LOVED his new spider man doll.
Brothers playing.
The birthday cake.
Looking at a book he got.
In this month I also wrote about how, as a mom with small children,
Sometimes You Don't Get to Eat, and That's Okay
. At this point I was in the thick of things with a 4 month old and now 3 year old. Crazy, crazy, long, exhausting days! But still times of fun and joy. It's weird for me to look back on this entire year and see how fast it's gone. My baby will be 9 months old next week. Crazy.
Here are some of my favorite pics from August.
Life is never dull with these two.
He loves to play with water, or "do waters", as he calls it.
Having fun at the city park.
September
September was a little more adventurous than the rest of the summer had been, since the baby was starting to get a little older and I was beginning to feel a little better. Jack started pre-school in September and was so excited to go.
I was a little sad at first, realizing that he is starting to get bigger, but then I wasn't that sad once I realized how nice it's been to have an hour and a half to myself twice a week, since the baby naps at that same time. I look forward to the time alone every Tuesday and Thursday!
We went up to Idaho a week after Labor Day Weekend to visit my parents and had a really great time. I took Jack to the Nature Park for a walk and we really enjoyed ourselves running on the trail together, seeing ducks, and random poodles that kept jumping on us.
My parents celebrated their real 50th anniversary while we were up there by buying themselves a new love seat (then returning it I guess for something else because my dad thought it was uncomfortable).
Throughout the summer, I started trying to do a monthly 'Mommy/Jacky Date' with Jack, in order to give him some one on one time. We've had fun taking him to get his hair cut, then going out to eat at exotic Arctic Circle afterwards, where he can play at the play place. In September we actually got to go to the Circus together. It was the first time for both of us. He had a great time, and I really wish another adult would have been there with me to enjoy all of the spandex suits and 'happy' men dancing around everywhere. I had a whole lot of sarcastic jokes going on in my head and no one to share them with. I also had fun with my 3 year old. :)
He was so excited to see all of the animals.
Here are some of my favorite pictures from September.
Playing together.
Breakfast
Enjoying one of the last days of summer.
I love our hammock, which we got from The Outer Banks (Nags Head) in North Carolina 4 years ago. One of my favorite things from this past summer was all the time spent lying on the hammock outside with my boys, or lying there with the baby, staring at the trees and watching Jack play.
This summer was really slow, but in ways, that was good. It made me drastically slow down my life, which was very, very frustrating on a day to day basis, but looking back, has been a very good thing for me, because it caused me to begin to make some very big changes in my life. This was one of the longest, most difficult summers of my entire life, and I'm glad it's over. But, looking back, it was good too.