2014 Review Extravaganza Week 2
Linking up with Emmy today for Week 2 of the 2014 Review Extravaganza.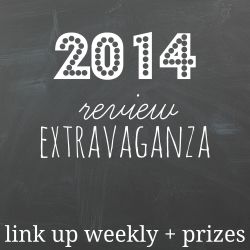 April
Not a whole terrible lot happened in April, besides the fact that we came home from the hospital with our brand new baby and dove into survival mode.
Just home from the hospital.
My mom stayed with us for the first week after
I seriously cried when my mom left. She was a huge help!
I think Willem takes after Brent's family. I see a little bit of me in him still though.
Then, I was on my own. Brent had to go back to work immediately, and I was incredibly exhausted and overwhelmed, for obvious reasons, but also for the fact that I had a very hard labor (if you're so very interested, you can read about
Willem's Birth Story
here).
Jack was very excited to have his new brother home, but proved to be a bit of a punk to my mom. It was not a good time. Willem really struggled that first month with tummy problems and being a bit colicky, but then started to settle himself a little better after the first 4 weeks.
Batman loves baby Willem.
My poor hubby. This picture says it all, at 3:30 AM
It was at 2 1/2 weeks postpartum that I started to really struggle with Postpartum Depression, and have been steadily recovering from since then. I won't go into detail, but, I'm happy to say that 8 1/2 months later, I feel like I'm doing much, much better now.
May
I'm sorry to say that still not a whole lot happened in May. These three months are honestly just one big gigantic blur to me, as it is for all parents of newborns. Seriously I feel like the first three months are just plain freaking survival. If you get to shower that day, that is a huge accomplishment. At least for me it was.
This is how Willem feels about 'selfies'. (I hate that word).
He looks like he's practicing kickboxing!
Watching "Fantastia" together.
But, there were some enjoyable moments of course. Even though it is exhausting, there really is nothing like holding a sweet newborn baby ... when they're sleeping! :)
For Mother's Day this year, Brent was awesome and stayed home with my 6 month old baby and 2 year old and I went to a hotel for the night all by myself. It was wondrous, and I plan on doing it every single year, if I can!!
Mother's Day.
Willem was blessed (or christened in other religions) at the end of this month. I ended up not really liking his blessing outfit, but, pickings were slim. Still, it was a great day with my family.
June
We had my family's reunion the second week of this month. Willem was barely almost 2 1/2 months old, and it took everything out of me to go to this reunion. That being said, we had a great time. We went swimming,
a family dance party which was a TON of fun,
My sweet parents at one of my favorite places, Grand Teton National Park.


Whole Fam Damily.
Jenny's Lake
My sister holding Willem.
We also celebrated my parent's 50th wedding anniversary, even though their actual anniversary wasn't for 3 more months in September. It was such a wonderful night, with an amazing dinner my brother and sister and their spouses put together, and an emotional slide show of our family that my other sister put together. We rented out the local community theater to have this celebration, put on skits for my parents, and overall just had a great time.
My own little family.
Cousin Love.
Jack wanted to do the haka with the big boys.
Jack was Tom Selleck from Magnum PI. Looks more like Mario!
It was after this reunion that I had my major, well, nervous breakdown. It's not the happiest thing to read about, but if you or someone you know has struggled with postpartum depression, you can read about it
here
. This is a very real and serious condition that I personally feel, especially the state I live in, Utah, where having babies seems to be a National Past-time, really needs more focus, attention, support, and help. I went back up to be with my parents a week after coming back home from the reunion, to have some help from my family. While I was up there, I took a drive out on the dry farms (potato farms in Idaho), to an old abandoned house that I used to go to with my friends in high school. It is one of my favorite places in all the earth, because it is completely quiet and isolated. It did great wonders for my soul to go back out there by myself.
Even though these three months began one of the most difficult times of my entire life, it is nice to look back on these pictures and see the happy moments that did occur, and that even in the middle of deep sorrow and trial, beautiful, happy sweet moments still occur every day. And it's fun to see my sweet boys of course. My mom called them my little bear cubs today. I liked that. They certainly do act like funny, rowdy, curious little bear cubs!